Orchestra Performs to an Enthusiastic Audience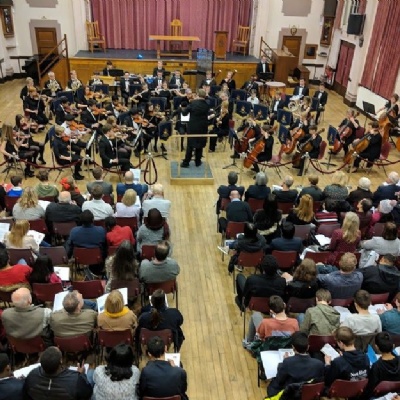 Thursday 14 March saw Westcliff High School for Boys' outstanding Spring Sinfonia concert musicians performing yet again to a packed hall of over 300 keen concert-goers.
The audience were treated to a programme of Finnish and Russian music, starting with Sibelius' majestic 'Finlandia' followed by the lilting 'Karelia' suite. The second half featured Borodin's 'In the Steppes of Central Asia' and concluded with Mussorgsky's bombastic 'Pictures at an Exhibition Suite', featuring a large percussion and brass section.
Director of Music at Westcliff High School for Boys, Tom Derrick, said:
"We regularly throw complicated music at our students and they always rise to meet the challenge. This was one of the hardest programmes they have performed and it was, as ever, a pleasure to conduct the orchestra. It is also heartening to see such support from the School community, many of whom had not seen an orchestra perform live before."
The orchestra, comprising talented students from years 7 to 13 together with members of staff, parents, ex-students and former teachers, will return to rehearsals at the beginning of the Summer term in preparation for the final concert of the academic year on Thursday 4 July. The performance will feature Rossini's overture to "The Barber of Seville" and Weber's "Clarinet Concerto No. 2", and members of the local community are most welcome to attend. Tickets can be booked at https://whsb.ticketsource.co.uk/.