Flags Fly at WHSB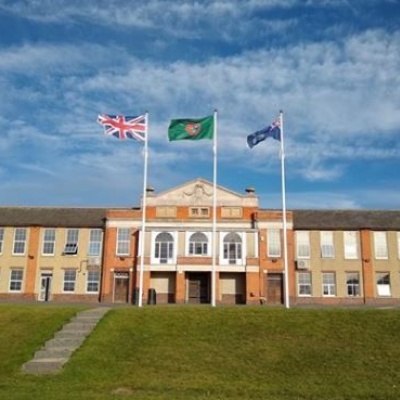 Thanks to generous donations from the School's Old Westcliffian Association, Old Westcliffian Masonic Lodge and from parents, WHSB has been able to install three flagpoles at the edge of the School playground.
Primarily for the benefit of the School's Combined Cadet Force (CCF), which features both Army and Navy sections, these flagpoles enable the Contingent, School and Union Flags to be flown for both military and naval drill practice as well as ceremonial occasions.
Earlier this month the School welcomed members of the Old Westcliffian Masonic Lodge to present Major Jonathan Bleakley, CCF Contingent Commander, and Darryl Hill, Officer in Charge, CCF Royal Navy Section with two Westcliff High School for Boys flags. The Old Westcliffian Lodge has long-standing links with the School, having been established in 1934 for past pupils and staff. The School flags, funded by the Lodge and depicting the School's rampant lion crest and motto "Fide et Fortitudine", will be flown regularly from the flagpoles alongside those of the CCF and the Union Flag.
Headmaster Mike Skelly said:
"We were delighted to welcome members of the Old Westcliffian Lodge to the School and are very grateful for their donation. These flags represent a visual demonstration of the pride felt by our School community including our alumni in our School".