Careers in Engineering Evening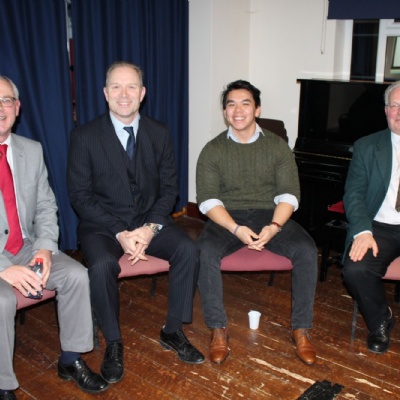 WHSB welcomed some old friends, and a previous pupil, back to the School to speak about their individual career pathways within varying sectors of the Engineering industry.
An enthusiastic audience from many local secondary schools were in attendance, eager to quiz the invited guests about current world issues affecting the industry and engineering in general.
Andrew Fraser, who works for Ford at Dunton, was delighted to return to the stage fresh from his travels in Belgium testing the performance of new and exciting models of car. Steve Houghton, Head of Engineering at Leonardo (Basildon and Southampton sites), followed with his insight and expertise within Engineering, from his apprenticeship roots to the present day. The last time Jon Leong attended the School, was as a pupil, before attending Imperial College to study Material Science and Engineering. He now works at Dyson within the Thermodynamics Research Team and enjoys the challenges this brings him. David Ginn regaled everyone with not only his extensive automotive engineering experience, but also sharing his talented artwork which he continues to exhibit.
The audience asked a number of questions throughout the evening with guests continuing to answer questions long after the evening had officially finished. The invited guests responded enthusiastically and with delight at the keen and enquiring minds.
Nicki Weller, WHSB Careers Advisor said:
"The appetite to cross-examine this popular industry sector has never been more apparent and we will continue to host these events each year, not only for the School but for the benefit of our wider community as well."