Pupils Take Dramatic Instruction from Professor Dr Peter Gould​​​​​​​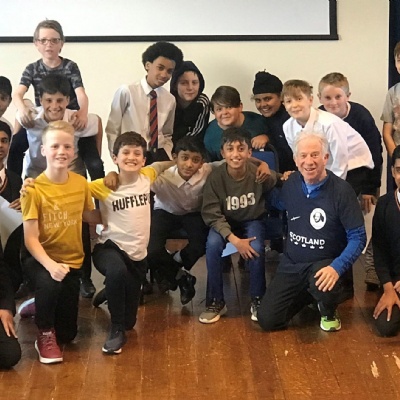 On Thursday 25 April, American Professor Dr Peter Gould, visited Westcliff High School for Boys as part of his tour of UK schools, delivering an acting masterclass, specifically in Shakespearian performance.
He worked with the School's drama players, as well as pupils from Key Stage 3 (ages 11-14 years), teaching them techniques to help improve their physical approach to acting. Pupils worked on speeches from 'Macbeth' and 'A Midsummer Night's Dream' and Dr Gould skilfully incorporated contemporary themes, such as climate change and the concept of power, into his masterclass. The students were very grateful for his guidance.
Tom Keenan, Key Stage 3 English Co-ordinator, said:
Well done to all students who participated - talk has already begun of visiting Dr Gould's summer Shakespeare camp in Vermont in the future. My personal thanks to the staff who supported this successful and enlightening event as well.