WHSB Celebrates World Book Day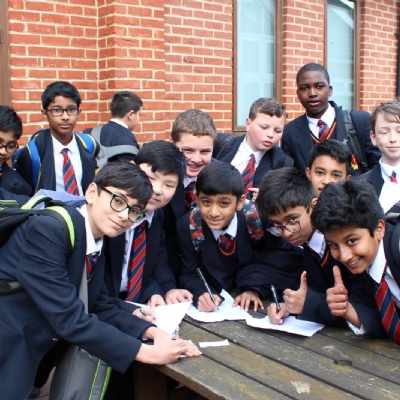 Students and staff at Westcliff High School for Boys threw themselves wholeheartedly into celebrating World Book Day on Thursday 7 March.
A host of book-themed events and activities took place throughout the day in which the entire school community participated.
Students took part in a book character treasure hunt, seeking out members of staff wearing stickers depicting famous and unique literary characters. Staff were invited to recommend and discuss their favourite or most inspirational book and to make mock-up book cover posters listing inspirational titles to display on their classroom doors for pupils to see.
Tom Keenan, Key Stage 3 English Co-ordinator, responsible for organising the day's events, said:
"World Book Day is a great opportunity for the whole school to become involved. As always it was very pleasing to see how as a community we are able to inspire our pupils through discussing not just their own books but through helping them engage with the eclectic interests of staff. Fostering a love of reading amongst the school community is an enormous part of the WHSB culture and the engagement with World Book Day showed that fully. "