Year 11 Enrichment Activities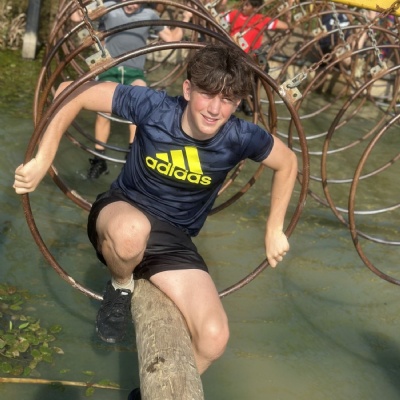 Our Enrichment Day provided varying and engaging activities for our Year 11 pupils this September. A third of the Year group joined the History Department on a tour of the First World War Battlefields, with visits to Ieper and the Somme. The visit was a moving and powerful experience, with emotional visits to cemeteries and memorial monuments such as Thiepval, Tyne Cot, and the Menin Gate. Pupils showed enormous emotional maturity in their engagement with these moving stories, and the trip was clearly enjoyed by all those attending, not least thanks to the sessions led by Andy Robertshaw, military historian and adviser to films such as 1917 and War Horse.
Other Year 11 pupils joined the Mathematics Department trip to the Nuclear Races. These pupils started with an informative Mathematics lesson, using A-Level modelling skills to project what would happen to them on the "Death Slide". Whilst the time proved accurate, we did not see many people flying the predicted 6 metres. The groups all had a fantastic time, ending up covered in mud and completely exhausted. Accompanying staff were delighted to hear Instructors at Nuclear Races describe our boys as an "Epic" group of students who really impressed with their positive attitudes and team building mentality.
Those Year 11 pupils remaining in School had a fun filled day of "Problems and Puzzles". These pupils worked on the more difficult problem-solving questions at GCSE that usually end up published in the press after the examination as "impossible questions". They then took on the Intermediate Mathematics Challenge which they will have the opportunity to sit later this year. The final part of the day was spent on practical challenges, including Cube Stacking and Celtic Knotwork.
Our special thanks to Mr Jeffreys for coordinating our superb enrichment programme this year, as well as the History Department's visit to the Battlefields, and to all those colleagues who worked so hard to ensure an enjoyable time was had by all.