WHSB & Lancaster School Collaboration for National Music Day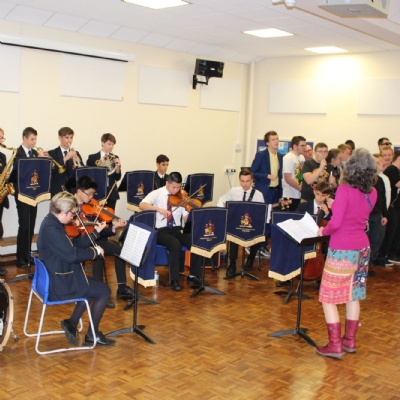 WHSB & Lancaster School Collaboration for National Music Day
One short week ago, Helen Smith, WHSB Parents Association member and School Music/Drama Assistant, embarked upon the task of creating a joint school workshop and collaboration in support of BBC National Music Day, between Westcliff High School for Boys and Lancaster School in Westcliff.
On Tuesday 24th September 2019, an ensemble of 12 Westcliff High School for Boys musicians, attended a workshop at Lancaster School to assist and perform with their students, the popular Queen song 'Don't Stop Me Now'. Both schools executed this rousing song to perfection, with enormous enthusiasm and gusto. Charlotte Rose, Broadcast Journalist from BBC Essex, was also welcomed along, interviewing Tom Derrick, Director of Music and Year 13 student, Edouardo Cidichimo, (age 17) live at 8.30am. The performance was filmed as well and to be shown on BBC Look East this evening.
The event was watched by an audience of staff from both schools, overjoyed to support all the students and joining in with the uplifting rendition of this hit song.
Quotes:
Tom Derrick, WHSB Director of Music: "This is a great way to bring the community together and a wonderful way to support the talented students at Lancaster School".
Nathan Cresswell, Lancaster School Head Teacher: "This is a great opportunity for both our schools to celebrate music with our local grammar school and their live band. Everyone in our school loves and enjoys music".