Westcliff High School for Boys Students Win a Coveted National Engineering Competition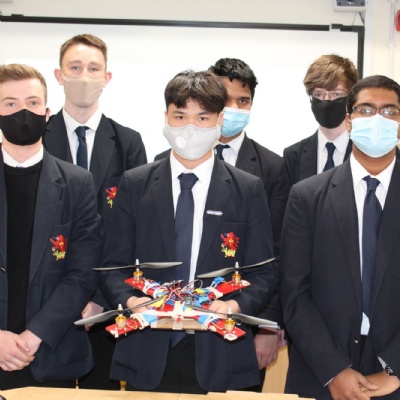 WHSB Students Win a Coveted National Engineering Competition
A team of dedicated and enthusiastic Year 12 students (aged 16-17 years) from WHSB, has been rewarded by winning the National Engineering Education Scheme's 'Best Teamwork Award' after spending their Wednesday afternoons and spare time since October 2020, focused upon a specific project brief - to build a Medical Drone. They spent their time researching possible solutions, designing ideas in CAD and prototyping completed models in preparation for a 30-minute presentation and questioning in front of a panel of experts and senior Engineers. They were mentored by Engineers from Leonardo in Basildon and competed against over 250 other teams throughout the UK.
Photo L-R:
Ben McKay, James Glenister, Jonathan Cheung, Shabaa Alam, Joseph Dowler & Antonio Joy
Quote:
Ben McKay, WHSB Year 12 student: "Thanks to the Engineering Education Scheme we got to learn about a product that can potentially save lives, which we all designed from scratch".
Chris Wright, WHSB Head of Design & Technology: "In between lockdowns and remote learning, it has been quite a challenge for the teams to work together but both teams have been most impressive in demonstrating the motivation and resilience necessary to get their projects completed in time".