Westcliff High School for Boys Students Beat the Competition to Win Coveted Award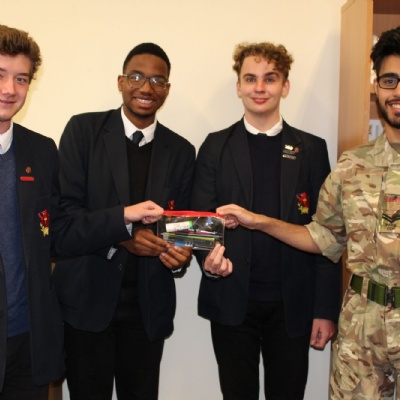 WHSB Students Beat the Competition to Win Coveted Award
Two business-minded teams of Year 12 students (aged 16-17 years) participating in the Young Enterprise Company Programme at Westcliff High School for Boys, were selected to compete in the recent Regional Finals. A number of other schools in Essex were also competing in the competition but Team Summit from WHSB, were awarded the Innovative Award, whilst Team Silver Linings were runners up for the Best Company Award.
Prior to the awards evening, both teams were interviewed on-line by a panel from Young Enterprise, following submission of their company reports and presentations about their chosen product, which they planned to manufacture, market and distribute.
Photos:
Left - Team Silver Linings (L-R): Tom, Toni, Alex & Eesa
Right - Team Summit (L-R): Rameen, Christian, Luke, Mariska, Ismail, Tom & Felix;
Quotes:
Toni Adewole, Managing Director of WHSB Team Silver Linings: "With the many trials and tribulations that lockdown has presented us with, it's been great to have our hard work appreciated. The team would like to thank Young Enterprise for hosting this programme, as well as Mrs Weller from WHSB for her tireless support".
Mariska Yazbeck, CEO of WHSB Team Summit: "We are all thrilled to have our hard work, determination and efforts acknowledged. It has been a valuable team collaboration, despite the obstacle of COVID-19 restrictions".
Nicki Weller, WHSB Careers Adviser: " Both teams have excelled through adversity, finding innovative ways to communicate during two lockdowns. I am immensely proud of them all and hope the experience has given them new skills sets to grow and develop into entrepreneurs and business people of the future".