Westcliff High School for Boys' Production of Joseph Amazes Audience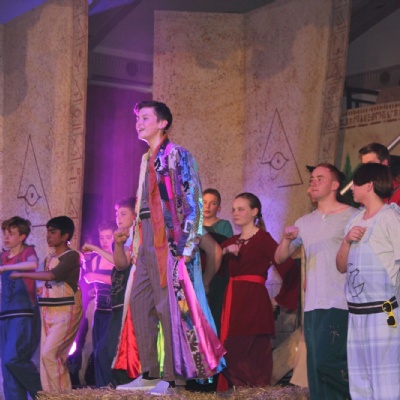 WHSB Production of Joseph Amazes Audience
More than 40 students from Westcliff High School for Boys have appeared in their production of Joseph and the Amazing Technicolor Dreamcoat, originally written for the West End stage by Sir Andrew Lloyd Webber and Sir Tim Rice. The actors and musicians represented each Year group throughout the School, from Year 7 to the Upper Sixth.
The preview matinee performance was attended by nearly 400 Year 5 pupils and staff from four local primary schools, giving the cast an opportunity to rehearse in front of their first live audience. This event was followed by productions on three consecutive evenings, entertaining members of the School community and general public.
The atmosphere each evening was electric, with enthusiastic audiences enjoying and engaging with every moment of this popular musical. The School was also delighted to receive a message for support via video from local musical theatre and television actor, Lee Mead, who is best known for playing the part of Joseph in the West End production of this show.
Quote:
Ben Jeffreys, Director of Drama: "I am immensely proud of yet another brilliant performance from our WHSB Drama department - they continue to dazzle with their formidable range of dancing, singing and acting skills. It was a magnificent effort from the whole cast, our in-house band and huge backstage student team, who thoroughly enjoyed putting together our performances of Joseph and his Technicolour Dreamcoat".
Mike Skelly, Headmaster: "I would echo Ben Jeffreys' comments - the actors, musicians and supporting team were simply outstanding; the talent of these young people is astonishing and we are so fortunate to have the opportunity to enjoy productions of such a high standard here at the School. I congratulate Ben Jeffreys, Director of Drama, for bringing such creativity and inspiration to the many weeks of rehearsals, which led to this impressive production. I would also like to congratulate Alex Wood, Musical Director, for leading and inspiring our superb musicians to ensure the music was performed to the highest standard".