Westcliff High School for Boys Awards Assembly July 2022with Guest of Honour, Anna Firth MP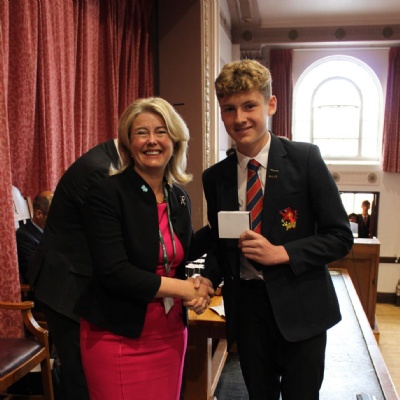 WHSB Awards Assembly July 2022 with Guest of Honour, Anna Firth MP
Westcliff High School for Boys' Awards Assembly took place on the morning of Wednesday 13 July, giving the school community the chance to celebrate pupils' many remarkable achievements.
In recent years, Westcliff High School for Boys has welcomed an impressive array of guest speakers who have excelled in their chosen career, whether in public life or industry. On this occasion, the School was delighted to welcome Anna Firth MP as Guest of Honour for this special Awards Assembly. This special Assembly was scheduled following the postponement of the School's Speech Day last year due to uncertainties regarding restrictions on social gatherings due to Covid-19. Anna Firth is Member of Parliament (MP) for Southend West, having won the by-election in February 2022 following the tragic death of Sir David Amess. She has a track record of working tirelessly on issues that matter to local people, including opposing overdevelopment in the Greenbelt, campaigning for more grammar school places, better public transport, better health and mental health services, more police and supporting community volunteering.
Over 900 pupils, staff, parents and guests attended the event which took place in WHSB's School Hall. Certificates and over 80 prizes were presented to many proud pupils from all Year groups.
Headmaster Mike Skelly said, "It was a delight to see so many proud pupils of all ages coming forward to collect their prizes. It is so important to celebrate the achievements of our pupils, as their success is a reflection of their hard work, the dedication of the staff and the support of the parents. We are most grateful to Anna Firth, our Guest of Honour, for taking time from her busy schedule to join us for this most important event in the School calendar."