Westcliff High School for Boys are HARP Heroes!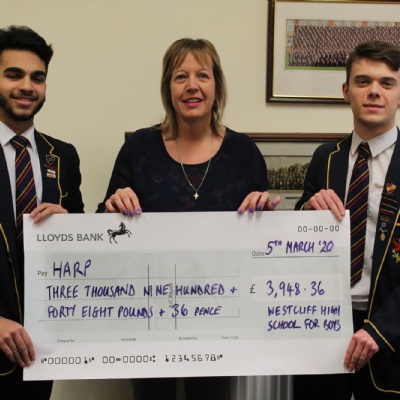 Westcliff High School for Boys' Charity Committee were proud and delighted to hand over a cheque for £3,948.36 to HARP Southend, following a series of fundraising events held within the School premises. The Charity Committee, comprised of elected Year 12 students (aged 16-17 years old), worked tirelessly to raise money for this fantastic cause, supported by Teachers and staff as well.
Events included a quiz, disco, movie night, Teacher's pantomime and the annual Teacher Sumo wrestling competition, as a finale show stopper! The organisation for each activity was in addition to the students' studies and daily timetable, but everything went smoothly with a huge amount of fun and laughter had by everyone involved.
Photos (L-R):
Peter Simon, WHSB Charity Committee Treasurer, Lisa Walton, HARP Community Fundraiser & Milo Challis, WHSB Charity Committee Chairperson.
Quotes:
Milo Challis: "It is really heart-warming to be able to help a local charity as a local School. Everyone pulled together and it is so important to remember those who really need our help".
Lisa Walton: "We are so grateful to the students and staff at Westcliff High School for Boys for raising such a fantastic amount. Donations like this go a long way to helping us continue to grow our work, tackling local homelessness. This money will enable us to assist local people for the future, not just in the short term. You are real HARP Heroes!".