TOP AWARD FOR WHSB ARMY CADET, WILL MIDWINTER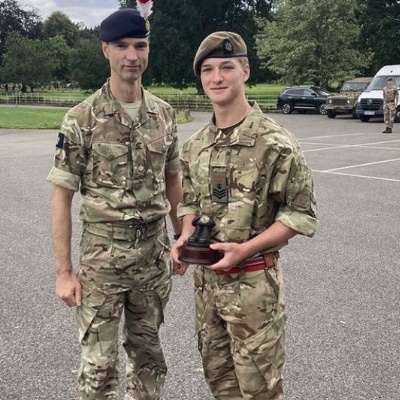 TOP AWARD FOR WHSB ARMY CADET, WILL MIDWINTER
Upper Sixth Student and School Captain, Will Midwinter, a member of the School's Combined Cadet Force, has been awarded Master Cadet status following completion of the week-long Master Cadet Course. The course is run by the Army at its Cadet Force Training Centre, Frimley Park, in Surrey. Only the most impressive senior cadets across the UK are selected to attend this demanding course, which is the most senior course offered to Army Cadets in the UK, and is the pinnacle of cadet training.
During the course, numerous cadet squads were required to complete a mile long log run, a four-day and three-night field exercise, and timed obstacle course. Leading his squad in a number of section attacks, Will was graded as highly competent and awarded his Master Cadet qualification. He was also given the award of Champion Cadet, as the best performing cadet on the course. Well done to Will on this outstanding achievement.
Will is pictured here with Major General J Swift OBE, Royal Regiment of Fusiliers, who presented him with his Master Cadet trophy.