The Festive Season Has Begun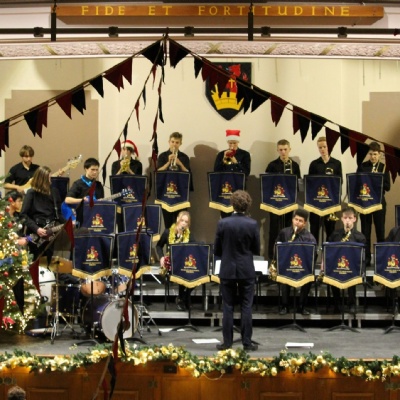 The festive season at WHSB began on Friday as the Big Band took to the stage for this wonderful annual Christmas show. Headlined by the superb WHSB Big Band – including Jacob (Lower Sixth), singer with the Big Band - this celebration also featured our talented musicians in the Westcliff Jazz Band and the Saxophone Quartet.
Against the backdrop of our magnificent Christmas tree, kindly donated by the OWA and decorated by our Sixth Form students, our musicians treated the audience to an array of hits covering a variety of styles, from Herbie Hancock to Frank Sinatra, from Dizzy Gillespie to Toto, as well as well-known Christmas music.
Well done to all our talented musicians, and we thank all the pupils, parents, staff and friends of the School who joined us to share in this seasonal celebration. We are also grateful to the Parents' Association for supporting the evening with their pop-up Prosecco Bar, mulled wine, soft drinks and ice cream.