Sweeney Todd Drama Production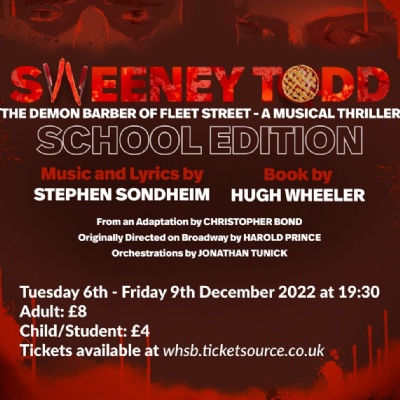 We wish all the pupils involved with Westcliff Drama the very best of luck for their performances of Sweeney Todd this week. The pupils take to the stage on 6, 7, 8 and 9 December to perform our Senior Production of Stephen Sondheim's dark musical tale of the Demon Barber of Fleet Street.
Tickets are still available for some of the performances. Please visit TicketSource for tickets and further details https://www.ticketsource.co.uk/whsb?sd=1
Enjoy some of Sondheim's finest songs, such as 'No Place Like London', 'Epiphany' and 'A Little Priest', as well as the enchanting 'Johanna'.
Washed up on the banks of London, Sweeney Todd has put aside his real identity (barber Benjamin Barker) and is now working his way through London society to take revenge on the Judge who sent him off to hard labour in Australia. That same Judge has since seduced Barker's wife and now plans for the same fate for his Ward, Barker's beautiful daughter Joanna, who also attracts the affection of heroic sailor, Anthony. Will the two young lovers escape the fiendish Judge's clutches? Todd joins forces with local pie maker, Mrs Lovett, and between them the two hatch solutions, both to Todd's desire for revenge on the Judge but also solutions to Mrs Lovett's problem of a lack of affordable meat in London markets. The two make a gruesome but compelling duo as they go about terrorising London society in order to gain ultimate revenge.