St Vincent's Centre's 2000 Tin Challenge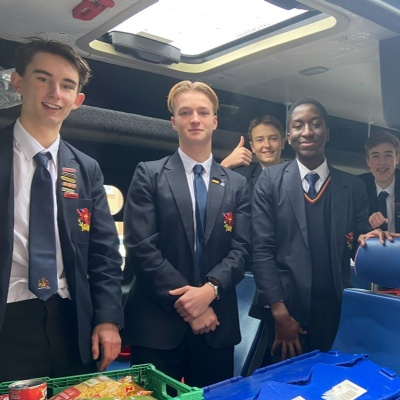 Christmas is such an important time of the year to support others and give back to our local community. With the huge rise in the cost of living, more people than ever this year will be turning to foodbanks. This is currently a national issue but in order to help turn the tide, support must be initially given locally.
Students at Westcliff High School for Boys have been supporting the St Vincent's Centre's 2000 Tin Challenge this month. The St Vincent's Centre is a local community hub supporting the elderly, homeless and those most vulnerable in our local Southend community, offering not only food parcels but also warm meals, clothes, counselling and much more.
The aim was to collect over a thousand items, consisting of tinned and packaged goods which could be used for food parcels. Centre Manager, Danielle Cauchi, visited the School to deliver a whole-School Assembly, informing pupils of the work that the Centre does daily for Southend. "This helped to inspire hundreds of students to support the Charity Committee's initiative and by working collaboratively and supportively between Year groups, the School successfully achieved and even surpassed its target" said Will Midwinter, Chair of our Charity Committee.
We are proud of all those students involved; their efforts in support of this worthy cause have been outstanding. We would like to thank the Charity Committee and Mrs Revell for their work, and we give our special thanks to Mr Tresidder and Mrs Cook for their support in collecting and delivering the donations to St Vincent's Centre.