Speech Day at Westcliff High School for boys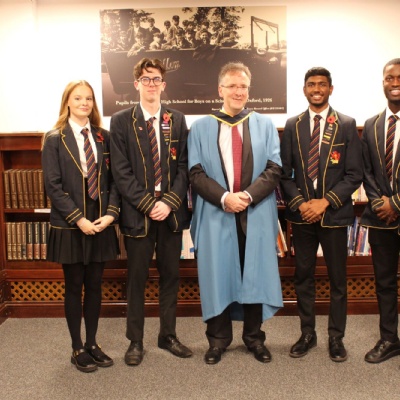 Speech Day at Westcliff High School for boys
The pupils, parents and staff at Westcliff High School for Boys were delighted to see the return of their Annual Speech Day on Thursday 3 November, following the two year hiatus caused by the COVID-19 pandemic.
This formal occasion in the School's calendar is an important occasion for the School to formally acknowledge and celebrate the remarkable achievements of the pupils. During the evening, a number of special prizes were awarded for academic success, progress and service to the School and community. Students, prize winners, parents, governors, staff, former pupils and guests were also treated to an entertaining and inspiring speech by the guest of honour, Judge Philip Statman who was a pupil at WHSB from 1963 to 1971. Judge Statman shared many fond memories of WHSB with current pupils, as well as his reflections on his education and career since leaving the School. Among the special guests were the Mayor and Mayoress, Anna Firth MP, Cllr Helen Boyd, Adam, Tregoning JP and Lord David Gold, also a former pupil of the School.
Headmaster, Mike Skelly commented "It is always a pleasure to celebrate the achievements of our pupils and, this year, we were delighted to have the opportunity to return to our traditional format in the School Hall, sharing this special occasion with the many parents and guests that joined us for the evening. We were honoured to be joined by Judge Phillip Statman, who, I am sure, was an inspiration to the pupils as they continue to work hard to pursue their ambitions. We are also most grateful Mayor and Mayoress, Anna Firth MP, Cllr Helen Boyd, Adam, Tregoning JP and Lord David Gold, and to the many Old Westcliffians who visited to show their support for the pupils and to share in this special occasion with us.