Shakespeare in Action at Westcliff High School for Boys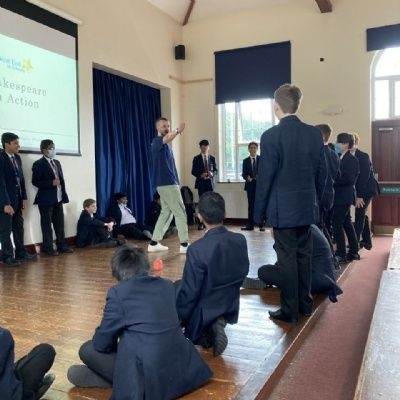 Shakespeare in Action at WHSB
Westcliff High School for Boys was delighted to welcome external Drama group, West End in Schools, to work with Year 7 pupils (aged 11-12 years). The Workshop, entitled Shakespeare in Action was focused on the comedy of A Midsummer Night's Dream, using a range of games and exercises. All pupils participating experienced how to develop physical comedy techniques, comic timing and even Elizabethan dancing!
After a year in which social interaction has been extremely limited, it was encouraging to see the pupils enjoying this experience and exhibiting confidence as they challenged themselves in a new activity. The teamwork and respect demonstrated by the pupils was exceptional.
Quote:
Tom Keenan, WHSB Teacher of English: "The boys had a wonderful day - there was lots of fun and laughter throughout the sessions. Feedback from the students was very positive and our guests were most impressed with the pupils and School".
Mike Skelly, Headmaster, WHSB: "This was a fantastic opportunity for our younger pupils and I am grateful to colleagues in the English Department who worked with West End in Schools to plan and bring this activity to the School. I commend the pupils on their positive engagement with the Workshop activities and we look forward to hosting further, similar workshops in the new academic year.