Scholarships Awarded to WHSB Musician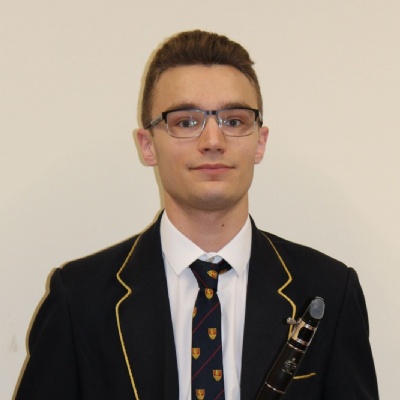 Year 13 student at Westcliff High School for Boys, Alex Usher, is an exceptionally talented, young musician with the ability to play a number of different instruments.
In addition to studying for his GCSEs and currently his A Level examinations, he has played in both the National Youth Orchestra and National Youth Wind Orchestra. He achieved local success in 2017 being awarded Rotary Club Young Musician of the Year in 2017.
As part of his University application process, Alex's abilities have now been recognised by Imperial College London. Along with a conditional offer to study for a degree in Computer Science, following an audition, they have offered him two scholarships to study the clarinet at the Royal College of Music along with a place in the Imperial College Symphony Orchestra. Alex has been awarded one of five Ash Scholarships which provide free music tuition for three years and, as a result of having been judged to be the candidate displaying the most exceptional ability, he is the proud recipient of a Coldstream Guards Award which funds the purchase of sheet music.
Tom Derrick, Director of Music at Westcliff High School for Boys, said:
Alex is a terrific musician and a credit to Westcliff High School for Boys. He is an outstanding and vital member of our Big Band, Concert Band, Saxophone Quartet and Orchestra. He is also one of the School's Organ Scholars. His success is a testament to the dedication he shows to music on a daily basis.
Headmaster, Mike Skelly, said:
Music commands a high profile within the School and we pride ourselves on the diverse range of extra-curricular musical activities that take place. Over the years a number of our students have excelled in this field, both nationally and internationally. I congratulate Alex and wish him every success; he should be extremely proud of his achievements.