Grammar School Welcomes 2020 Centenary Patron Lord Gold of Westcliff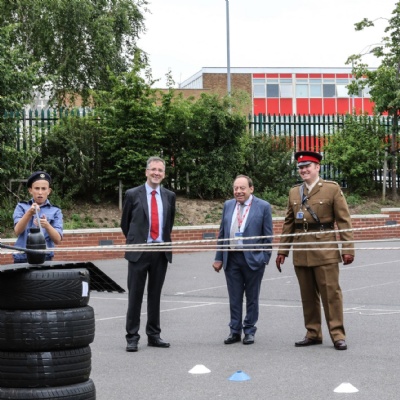 Grammar School Welcomes 2020 Centenary Patron Lord Gold of Westcliff
Preparations are now well underway at Westcliff High School for Boys to celebrate their Centenary Year in 2020. Former pupil Lord Gold of Westcliff-on-Sea, along with Lord Petre the former Lord Lieutenant of Essex, the School's two Centenary Patrons, have both made recent visits to the School in the run up to a year of events planned to mark this most significant milestone in the history of the School.
Westcliff High School for Boys and Westcliff High School for Girls began life as a combined co-educational secondary School in Victoria Avenue back in 1920 called the Commercial School. The School's name changed shortly afterwards to the Westcliff High School, with the boys moving to their purpose-built site in Kenilworth Gardens in 1926 and the girls to their new school building in 1931.
Lord Gold's visit to Westcliff High School for Boys in June afforded the School community the opportunity to showcase their talents and abilities across a variety of subjects. These included demonstration pieces and displays by the School's Combined Cadet Force, Music and Drama Departments and award-winning Sports Teams and individual athletes.
Headmaster Mike Skelly said:
"It gives me great pleasure to welcome Lord Gold back to his old School in the capacity as one of our Centenary Patrons. We are very grateful to both Lord Gold and Lord Petre for their support together with all those who are sponsoring Westcliff High School for Boys' Centenary Year on both individual and corporate levels. WHSB looks forward to hosting many Centenary-themed events throughout 2020 to which our School Community, Alumni and wider local community will be invited to attend."