GCSE Results Day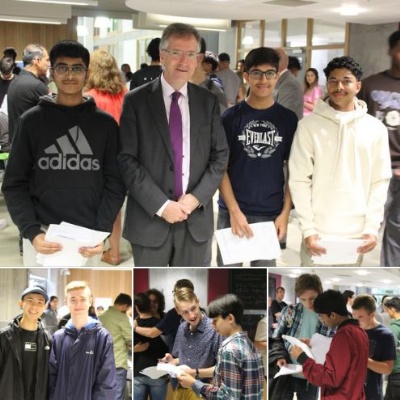 Students taking their GCSE public examinations this summer have been celebrating their outstanding results today, as they collected their GCSE grades from the School. We are so proud of these students who, having gained 79% of all grades at 9-7 between them, have achieved some of the School's best ever GCSE results.
Over a quarter (26%) of examinations were graded 9. This is an exceptional performance, with our students rising brilliantly to the challenge presented by the pandemic years. These remarkable results reflect the hard work invested and the students' resilience during and following the pandemic. They have had terrific support from their teachers who deserve our thanks and recognition for the superb teaching and support they have provided for their pupils.
We have many pupils who have performed at an exceptionally high level. 73% of pupils achieved 8 or more 9-7 grades, and 29% of pupils achieved 12 9-7 grades. A remarkable 47% of pupils achieved 8 or more 9-8 grades.
More pictures can be found at the School's Facebook page: https://www.facebook.com/WHSforBoys/?locale=en_GB