Enrichment Day Year 9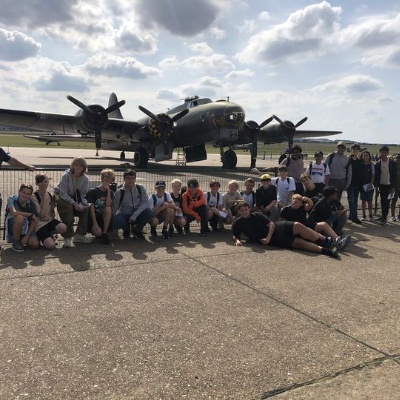 Enrichment Day for our Year 9 pupils involved a visit to the former RAF Duxford, near Cambridge, now an outpost of the Imperial War Museum. As well as the visiting historic site itself, and exploring the aircraft, both civil and military (from the Second World War up to an early Eurofighter Typhoon prototype), pupils were treated to a flying display on what was Battle of Britain Day, as pilots practised for the weekend's events. This included a team of Yakovlev aircraft flying in formation and, separately, two Spitfires and a Hurricane going through their manoeuvres.
This Hurricane from 302 Sqn had flown on a real mission, from Duxford, on 15 September 1940. A rare and moving experience of 1940s technology taking to the sky this year on 15 September, commemorated as Battle of Britain Day.
An enjoyable and informative day was had by all, and our thanks to Mr Hudson and his colleagues for their work in organising this fantastic opportunity for our Year 9 pupils.