Double National Podium for Westcliff High School for Boys' Athletics Teams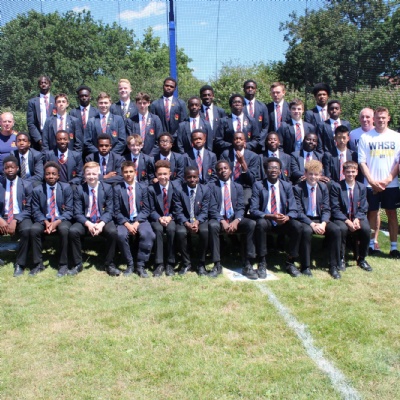 Double National Podium for WHSB Athletics Teams
Athletics teams at Westcliff High School for Boys secured their first ever double podium success at the English Schools Athletics Association Track & Field Cup Final in Abingdon, Oxford on Saturday 2 July. The Junior Boys Team achieved 2nd place nationally with a score of 513 and the Intermediate Boys' Team secured the 3rd place with 510 points. This is the first time the School has achieved two podium places at national level.
Director of Sport, Tom Morrish is proud of the progress that the pupils have made, "WHSB reached the National Athletics Final in both the Junior and Intermediate Boys for the first time in 2017. Our teams have now achieved podium places on numerous occasions, winning the Junior Boys' competition for the first time with a record-breaking score in 2019. Last year, that same team of athletes performed as Intermediate Boys and scored the highest points total in a reworked format of the competition. For both teams to have reached the podium this year is a phenomenal achievement. Our pupils love sport and all the challenges and successes that it brings".
Headmaster, Mike Skelly, attended the National Final to support the WHSB teams and observed, "The performances of the athletes in both teams was superb and the success they enjoyed so well deserved. The teams have shown great commitment and determination in their training and that is evident through their achievements on the day. I congratulate both teams and would also like to thank Tom Morrish, Director of Sport and all the teaching and coaching staff involved. Their dedication towards training, supporting and encouraging the pupils has been second to none. The School is proud of them all".