Aspiring Medics Visit Southend University Hospital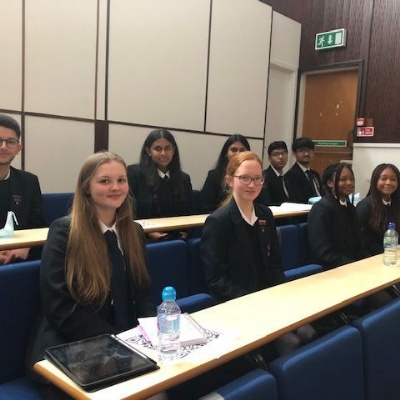 Aspiring Medics Visit Southend University Hospital
A group of Lower Sixth students from Westcliff High School for Boys, were invited to a Careers in Medicine seminar at Southend University Hospital (SUH). They were joined by students from other local schools, in a safe and socially distanced environment.
The pupils heard presentations from Junior Doctors, Consultants and Surgeons, who all passed on their advice, gained from their years of experience within the medical sector. The information shared was invaluable to the students, who all found the session informative and helpful. The event increased their enthusiasm to work within the medical field and highlighted opportunities they had not previously considered. Thanks to everyone involved at SUH for organising such an inspirational seminar.
Photos:
WHSB Lower Sixth Aspiring Medics
Quotes:
Caitlin McShane: "The trip to Southend University Hospital gave me a great insight into the various stages of medical careers and was very helpful to hear directly from those currently experiencing each phase at this time".
Harini Yogeswaran: "After this inspiring and informative experience at Southend University Hospital, I have been enlightened as to the many specialties within Medicine and it has enhanced my understanding of the countless possibilities available. This has made me even more determined to become a medical professional".
Headmaster: "I would like to thank Southend University Hospital for the opportunity they have offered our aspiring medical students, it is an invaluable experience for the students to hear first hand of the demands and rewards of a career in medicine".