Aspiring Entrepreneurs at Westcliff High School for Boys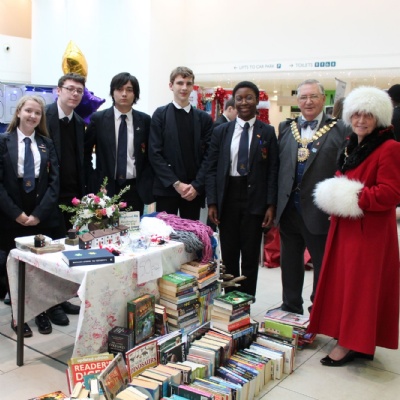 Aspiring Entrepreneurs at WHSB
Two teams of 16 and 17 year old Sixth Form students from Westcliff High School for Boys attended the annual Young Enterprise Christmas Trade Fair last Friday, in the hope of selling their festive wares to the public. They were in direct competition with other local secondary schools, so the pressure was on to attract customers to their individual stalls. The event was held at Southend's Victoria Shopping Centre.
The focus of the event was to raise much-needed funds to support their main product ideas which they hope to take to the general market in 2020, once production is underway. The Mayor of Southend-on-Sea and Lady Mayoress were also both in attendance and were impressed with the time, effort and enthusiasm of the young people involved in the programme, encouraging all of them to become the entrepreneurs and business owners of the future within our local community.
Mayor: "It is fantastic that everyone is looking at ideas for recycling with nothing going to waste. We need entrepreneurs for the future and to look after our environment. Business needs young people with fresh ideas, who will keep looking forward".
Nicki Weller, WHSB Careers Adviser & Community Development Officer: "Each student offered their own individual input to each stall, creating a fun atmosphere and providing excellent customer service. They practised differing sales techniques in order to sell their range of products, stepping outside of their usual comfort zone. Our school supports the Young Enterprise Company Programme every year, encouraging and inspiring our business leaders of the future".