Artists at Westcliff High School for Boys Create a Visual Treat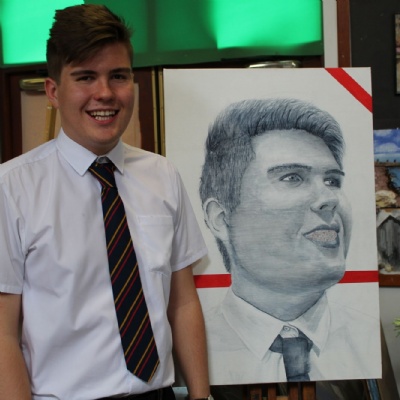 Artists at WHSB Create a Visual Treat
Art at Westcliff High School for Boys continues to flourish. Students' work has been displayed around the School throughout the year and pupils from all Year Groups have been encouraged to showcase their work as part of the annual Summer Art and Design Exhibition.
Art on display at the School's Summer Exhibition in July 2019 includes this year's GCSE students' portfolio themes, submitted on the subjects of 'identity' and 'my surroundings' with pieces created using multi-media, acrylic painting, collage, three-dimensional mod-rock sculpture, photography and film. A Level artwork included is students' personal investigations and exam assignments, which focused on themes including the built environment, line, shadow and chairs with several students having created life-size installations to demonstrate their understanding, interpretation and creativity of the subject in question.
Year-on-year, approximately 25 pupils choose to study Art as a GCSE subject and typically, 10 students continue to take the subject at A Level. Historically, many students have gone on to study fine art, graphics, video game software, film and photography as well as related subjects, at prestigious institutions and schools of art such as The Slade, Ruskin College Oxford, Central Saint Martins and Goldsmiths, Loughborough and Winchester University. A number of students have also become professional film makers and Artists. One recent student, Jack Browning, was shortlisted from 3,000 entries to show in the in Rijksmuseum, Amsterdam. Another student, Charlotte Hurst, revisited the School this week, to offer her support, advice and guidance with Year 12 (age 16-17 years) Art students. She has just concluded her final year at The Slade.
Tickets for the Summer Art and Design Exhibition on 16 July 2019 at Westcliff High School for Boys are available at https://whsb.ticketsource.co.uk/ .
Quotes:
Tim Sinnott, Head of Art and Year 12 Progress Leader at Westcliff High School for Boys, said "At WHSB we are so proud of the work that the students create. Each student goes on a journey of discovery and confronts issues small or large to make work which is real, full of curiosity and magic moments". (Photo 1768 with Charlotte Hurst).
Dominic Morris, Year 12 student from Wickford said "My artwork is based on my experiences growing up with a speech impediment, my thoughts and feelings being represented and being given a voice through my art."