A Virtual Success for Westcliff High School Students in Jack Petchey's 'Speak Out Challenge'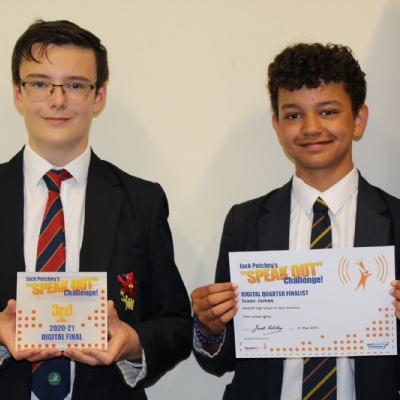 A Virtual Success for WHSB in Jack Petchey's 'Speak Out Challenge'
Westcliff High School for Boys is delighted to announce another success in the annual Jack Petchey's Speak Out Challenge. Every year, sixty Year 10 pupils (aged 14-15) take part in these workshops to develop their public speaking skills and to have the opportunity be heard on topics they are passionate about. The standard of presentations in 2021 was extremely high and the competition was fierce! After much deliberation, Henry Key's highly engaging presentation on the issues of 'Judging a Book by its Cover' and Isaac James' insight into society's perceptions on mixed race, were selected to represent the School at the virtual regional final. Henry and Isaac performed strongly against other local schools, impressing the judges with their mature and thought-provoking presentations, and Henry secured an impressive third place position.
Photo: Henry Key & Issac James
Quotes:
Miss Ives, WHSB Pastoral Leader for Year 7 & English Teacher: "Once again, our Year 10 pupils have risen to the challenge that the Jack Petchey's Speak Out Challenge presents. I was particularly impressed by their adaption to the different environment of a virtual competition, demonstrating determination and resilience. They are a credit to the WHSB community".
Henry Key, WHSB Year 10 pupil: "Participating in the Jack Petchey's Speak Out Challenge has taught me invaluable life skills and built my confidence when talking to a crowd. It has also helped me put my own views into perspective by listening to other competitors' views"
Isaac James, WHSB Year 10 pupil: "The Jack Petchey's Speak Out Challenge was an enjoyable and beneficial experience for myself and my peers. I enjoyed hearing other peoples' views on topics within our society and learned how to carry myself during public events. It has definitely taught me life skills."