A Time Capsule Marks the End of Westcliff High School of Boys' Centenary Year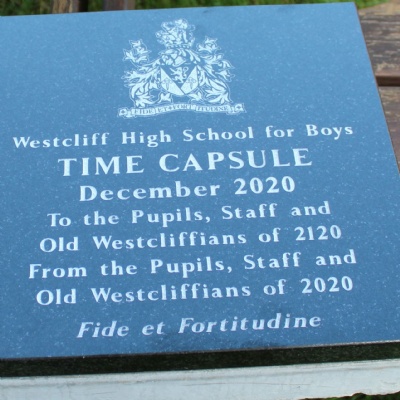 A Time Capsule Marks the End of WHSB' Centenary Year
Future generations unearthing the School's time capsule in 2120 will get an exciting glimpse of what life was like at Westcliff High School for Boys in 2020, when the world was in the grip of a devastating pandemic.
Made to a bespoke design by local engineering firm SWF, Specialized Welding & Fabrication LTD, the capsule's contents include Centenary photographs and memorabilia, items of uniform and accounts from students of life in lockdown and their predictions of what the world will be like in 100 years' time. A letter from Headmaster, Mike Skelly addressed to the School Community of 2120, was also accompanied by contributions from the School's Old Westcliffian Association and the Parents' Association.
The time capsule was buried in the School grounds and marked with a ceremony held on Tuesday 15 December 2020. Attending the socially distanced ceremony were a limited number of senior staff, pupils and a representative from Paul Robinson Solicitors, the official sponsor of Westcliff High School for Boys' Centenary Year. An official, intricately engraved granite plaque, kindly donated and presented by Darren Pymer of Southend based H G Blatcher, Stone Masons, will be placed over the time capsule to mark its location.
Headmaster Mike Skelly said: "We have this wonderful opportunity to bridge time, providing future generations of Westcliffians with the opportunity to understand the School community of 2020. The time capsule is a gift from our current pupils, staff and alumni to those attending, teaching in and governing the School in 2120 when they celebrate its Bicentennial. We hope it will provide a fascinating insight into how things have changed and the impact of the Covid-19 Pandemic in 2020. This brings a meaningful end to the School's Centenary Year."