A Spectacular Evening of Music and Drama at Westcliff High School for Boys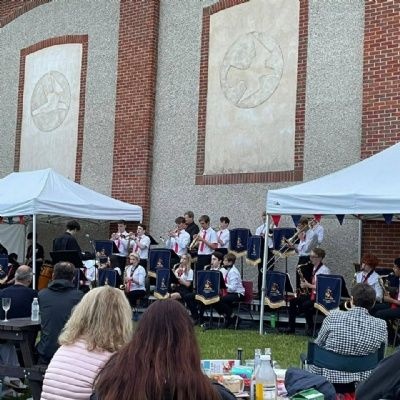 A Spectacular Evening of Music and Drama at WHSB
Pupils, parents and staff at Westcliff High School for Boys enjoyed a spectacular, socially-distanced, al fresco evening of Drama and Music – its first live event at the School since Covid-19 restrictions were put in almost 18 months ago.
The School drama company's outdoor performance of Around The World in Eighty Days opened the evening, allowing final year students to celebrate their many successful and entertaining drama contributions since joining WHSB, giving one final performance at the School. Experienced lead actors, Joshua Seal and Sri Haran Loganathan (both aged 18), were in sparkling form as Phileas Fogg and Jean Passepartout, supported by a lively cast from all Year groups at the School
This was followed by an outdoor concert, performed by the School's Big Band and Sax Quartet. The audience were treated to a wide range of eclectic music from Marvin Gaye and James Brown to Guns 'n' Roses. All the musicians had a wonderful opportunity to perform rehearsed pieces to a live audience, after months of restrictions and periods of self-isolation. The Big Band concluded the concert in the gathering dusk with a rousing rendition of Three Lions, to a rapturous applause by an incredibly happy audience.
Quote:
Ben Jeffreys, WHSB Head of History & Teacher of Drama: "It was wonderful to see new Year 7 pupils (aged 11-12) acting alongside these old stagers. This was a reminder that Westcliff drama not only has a successful past, but also a promising future".
Tom Derrick, WHSB Director of Music: "The band and I were delighted to be performing to an audience again after such a long time. I am so proud of our talented students and grateful to the huge audience that came to support and watch us".
Mike Skelly, Headmaster: "Both Music and Drama performances were outstanding and we were delighted to see a live audience back at WHSB at last. Despite difficulties arising from restrictions in past months, the pupils have shown great determination in practicing and honing their performance skills and that was evident during this evening of superb entertainment. I would like to thank Ben Jeffreys and Tom Derrick for their drive and support to the pupils in Drama and Music at the School, which has emerged, following the lockdown, as strong as ever.