A Level Results 2021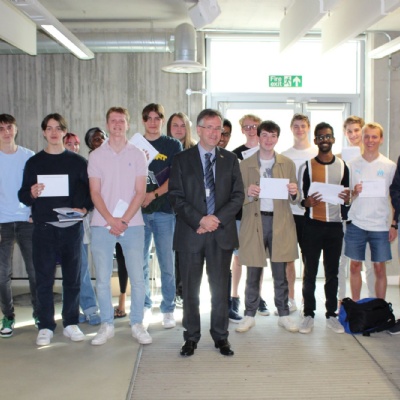 Westcliff High School for Boys A Level Results 2021
This year's A Level results are the best ever at Westcliff High School for Boys, with 33% of entries graded A* and 67% of all entries graded A* or A. In addition, an outstanding 88% of all entries were graded A*, A or B.
These results reflect the quality of work undertaken by students and staff across the last two academic years, and in the face of many challenges created by the pandemic. Staff worked relentlessly making use of objective evidence in order to submit accurate Teacher Assessed Grades following the cancellation of the Public Examinations.
There were many superb individual performances, with a number of students getting three or more A* grades, including 17 students who secured four A* grades and a further 23 students who achieved three A* grades. Nine students have obtained Oxbridge places and many others will be undertaking courses at prestigious Russell Group Universities.
Quote:
Headmaster, Mike Skelly said:
"I congratulate our students who have shown great diligence and fortitude in the face of the pandemic. I thank the staff of Westcliff High School for Boys, who have worked so hard with these young people, and I am also grateful to the students' parents for their ongoing support. I wish the students every success in their future studies and employment."