Essex Rugby Waterfall Final for Year 8 Westcliff High School for Boys' Team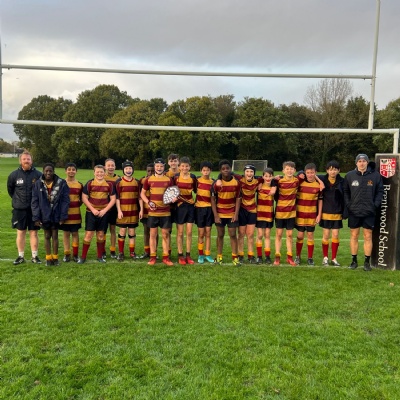 On Tuesday 8 November, Year 8 pupils from Westcliff High School for Boys travelled to Brentwood School to take part in the finals of the Essex Rugby Waterfall Competition, after qualifying without losing a game in the preceding weeks. The first game of the group stage was against Robert Clack School, who had also breezed through qualifying rounds. Therefore, it was no surprise that this game was a tough one. The performance from the WHSB team was strong and they were pleased to achieve a place in the semi-final. The interval between the group stage and the semi-final proved to be a pivotal one, as the weather went from bad to worse.
The semi-final was against Campion School who were, again, well drilled. However, the impressive performance of the WHSB team, despite the adverse weather conditions, led them to win the game and a place in the final.
In the final, once again playing Robert Clack School, the WHSB team did themselves proud. It was another tough game, with both teams unable to break the other's defence. Late in the game, WHSB was awarded a penalty, 5 metres away from the opposition's try line. Without hesitation, Reggie (Year 8) ran through 5 defenders who could not stop WHSB's dynamic captain. This important try won both the match and the Essex Rugby Waterfall title for Westcliff High School for Boys.
Mr J Sexton, WHSB Year 8 Rugby Manager said, "We are so proud of this team and look forward to seeing how they progress in the future. Well done to all involved, in particular Oliver - who was outstanding throughout the entire day, Zac - who played through injury to help his team, and Reggie and Beni for their outstanding performances during this important occasion.
Headmaster, Michael Skelly said "WHSB has a proud tradition of rugby success and it is fantastic to see our young players performing at such an impressive level. We congratulate all the pupils involved, not just for their performance in this competition, but for their commitment and dedication towards their training each week, and for their success in all the other matches that led them to win the Essex Rugby Waterfall competition."